The 'sex strike' is first mentioned by the ancient Greek playwright Aristophanes in Lysistrata, a play written in 411 BC. In this play, the female character is seen refusing to have a relationship with her husband to make her point.
About 2,000 years later, in the 1530s, Nicaraguan women also used this strategy. Their demand was to stop the Spanish slave trade.
In fact, recently the animal welfare organization PETA in Germany has appealed to the women there to refuse to have sex with non-vegetarian men. They go on 'sex strike'.
Animal welfare organization PETA (People for the Ethical Treatment of Animals) said that women should refrain from having sex with men who eat meat to save the earth. He said that men who eat more meat are responsible for greenhouse gas emissions. At the same time, the call for 'sex strike' on non-vegetarian men has created outrage in Germany.
PETA has thought of a unique way to stop men from eating meat. To make men vegetarian, the animal welfare organization has appealed to women to go on sex strikes against men who eat meat. If women do this then men may be forced to give up meat. The female characters in the play are asked to go on a sex strike until their husbands agree to negotiate a peaceful end to the Peloponnesian War.
According to The Telegraph, PETA said sex strikes could help "save the world" and end "toxic masculinity". In fact, a research published last year in the journal Plos One of the German branch of PETA said that, "Men eat more meat than women."
The research said that meat-eaters contribute to greenhouse gas emissions, with men polluting the environment 41 percent more than women. Citing this reason, PETA said that it is necessary to ban people from having children. We can save 58.06 tonnes of carbon emissions per child. Along with this, 'PETA' has also demanded a 41 percent tax on meat to save the earth from rising temperature.
At the same time, some politicians of Germany have opposed this appeal of PETA. Talking to AbP News on this decision of PETA, Shalini, an employee of Animal Welfare Organization based in Boring Road, Patna, says that 'sex strike' is stupid and divisive ideologies should be banned instead of sex strike against meat eaters. If we want to explain anything, we must first present the facts. No such step should be taken to get your point across.
Abdul, the owner of a meat shop in Delhi's Mayur Vihar, said on PETA's statement, 'I am shocked after this decision. I have a meat shop. Usually both men and women come here to buy meat. Sometimes a day passes when more women than men come to my shop. The special thing is that if a wife refuses to have sex because of eating meat, then it can become a reason for unrest in the house.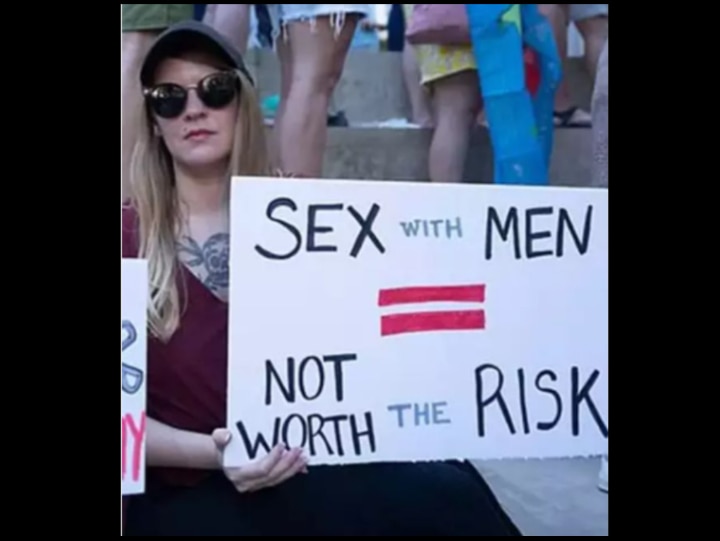 Liberia's Lemah Gobi appealed to women for sex strike
Speaking of the modern era, sex strikes have proven to be a popular concept around the world, including the famous 2003 effort by Liberia's Leymah Gobi, who called on women to launch a sex strike campaign to end her country's brutal civil war. inspired to.
Their strategy was to prevent women from having sex with their husbands so that their husbands would end the war. Leymah Gobi has also received the Nobel Peace Prize in 2011 for her work.
He told the Huffington Post in 2012, "A lot of people would say sex is a taboo subject, but when someone dares to bring it to the public's attention, it has a variety of consequences. People question That why someone is using sex to highlight an issue. Although sex strikes make men think… in Liberian civil war when I inspired women to do sex strikes it resulted It so happened that men started talking that 'this war is wrong'.
sex strike in kenya
Apart from Liberia, in 2009 in Kenya, women had conducted sex strikes in protest against government infiltration. Activists carried out a week-long 'sexual ban' ie sex strike in protest against government infiltration. The women of Kenya had also appealed to the wives of the country's President and Prime Minister to join the sex strike.
Also, in 2017, Kenyan lawmakers asked women to stop having sex with their husbands until they were registered to vote.
In 2008 the idea spread to Europe as well.
In 2008, the idea took hold in Europe when hundreds of women refused to have sex with their partners in the Gulf of Naples, off Italy's southwest coast. They demanded that their partners stop using dangerous and illegal fireworks on New Year's Eve.
read this also:
Know all about the Muslim cleric who called RSS chief Mohan Bhagwat 'Father of the Nation'
Kerala HC takes cognizance of bandh calling against NIA raids and arrest of PFI leaders, gives instructions to the state government