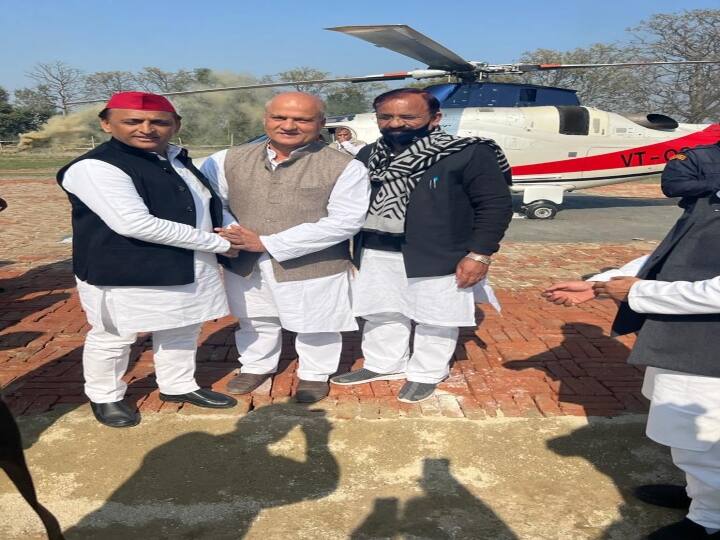 [ad_1]

Congress candidate from Amroha Sadar Assembly Salim Khan left the Congress Party two days before the Elections: Just before the second phase of voting in Uttar Pradesh, the Congress party has suffered a major setback. The Congress party had fielded Salim Khan from the Amroha Sadar Assembly, but two days before the election, he met former Chief Minister Akhilesh Yadav and joined the SP. Advocate Salim Khan said in a special conversation with ABP Ganga that, "I was asking for an appointment with Uttar Pradesh in-charge Priyanka Gandhi for the last 10 days, but the organization of the district did not let me take time."
Former cabinet minister Mehboob Ali got Salim Khan to join the party.
After Salim Khan left the Congress party, former SP cabinet minister Mehboob Ali got Salim Khan to join the party. Two days before the election, leaving the Congress and joining the SP, there has been a stir in the politics of the district. At the same time, Salim Khan has made many serious allegations, blaming the district organization and Congress party in-charge Priyanka Gandhi for this. He said that he does not want the grassroot level workers to meet the national leadership. Salim said, he wanted to meet Rahul Gandhi and Priyanka Gandhi, but the leadership of the second line did not let me go. After this he has decided to leave the Congress.
UP Election: Rajbhar, Sibgatullah Ansari and Sunita Singh filled the form from Ghazipur district, said this to the media
Akhilesh Yadav's promise to get respect after winning the election
During this, Salim Khan said that, "I have met Akhilesh Yadav, he has said that after forming the government, I will get the same respect." In fact, on Friday, former Chief Minister Akhilesh Yadav had arrived in Rampur to hold an election rally, where Salim Khan met Akhilesh Yadav. Soon after this meeting on the helipad, Salim Khan joined the Samajwadi Party.
In the past, Salim Ahmed Khan was in discussion due to one of his statements.
According to the news published in the media, a video of Salim Khan went viral on social media two days ago. In this viral video, Salim Khan had said, "SP should be voted to keep BJP out of power. On the other hand, after Salim Khan joined SP, Congress workers expressed their anger, angry workers attacked Congress. There was a ruckus at the party office. Not only this, angry Congressmen raised slogans in support of the BSP candidate. Many workers also fainted during this protest.
Also read:
UP Election 2022: BJP-Congress candidates are sweating profusely in the election campaign, know what they have left and joined politics
[ad_2]